Sustainability factors
Internal factors
Discipline and citizenship
The discipline in Akamasoa is called Dina: an agreement created by inhabitants themselves (no drugs, no alcohol, no games, no prostitution), but is often difficult to apply. The life still hard for many of them.
Each Saturday morning we meet all together permanent security services which are representing 50 persons to establish the situation of each village as far as thefts, runaway children, fight, rape, domestic violence and other public nuisance are concerned.
Furthermore, Akamasoa's teams are always here for the population and give a lot of time for moral and psychological support of each person. A lot of time is dedicated to support and listen each trouble.
Spiritual animation has also played a significant role in the awakening of them courage and in the awareness of them responsibilities within family and society.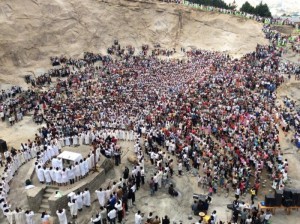 The Eucharist on Sunday has taken a significant dimension thanks to the massive participation of children, young and adult, almost 7000 persons meet each Sunday in the open stadium of Manantenasoa. But this meeting becomes international because a lot of brothers and sisters tourists come to discover this wonderful and unforgivable moment and to gather.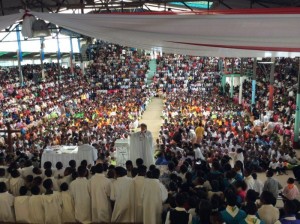 During the Eucharist, adults participate in the offering and bring the Word of God to the altar. Each week thousands of children prepare new dances making each celebration a beautiful and touching moment.
Association management
517 persons dedicated to the association and who want to do well, are Akamasoa employees. There is a team in charge of the management of the Association with Father Pedro and most of them are teachers, doctors, engineers, technicians participating in the management of many activities. Each day they achieve a huge work: a real fight. Each year we try to take up the challenge making us more performing: to be more performing represents a hard goal to achieve but we are working on.
In 2011 we created a specific Fokontany for the Association which represents a set of different district. Results are positive. The management is serious, there are less thefts, less fights, less children runaways: a real cooperation between Akamasoa security people and the head of the Fokontany.
External factors
At a national level, the status of "Public Utility Recognition" delivered in 2004 exempt the Association of import taxes of food assistance and humanitarian donations coming from the outside. Moreover, the State takes charge of a part (39 out 411) of teacher salary and doctors.
 
Since April 2010 Akamasoa with its own resources has to provide rice and vegetables to children in elementary school. Thanks to God we are helped by our Slovenian friends (Mission Center of Ljubljana) and Australian (Sydney French Roman Catholic Charities) who are concerned by this major trouble. Thanks to them and the Association, children are less likely to run away or to go to city to find others means of food. At first, the Slovenian help was for 3 years (until 2013) but fortunately it has been re conducted for 3 years so until 2016.
 
Nevertheless we still worried about future because we don't have view or guarantee about international assistance continuity.
To meet the permanent needs of elderly without resources, abandoned women and children, emergency measures for the poorest from Antananarivo and around Akamasoa villages, we have to find new food resources. It becomes very expensive for Akamasoa to buy each year hundreds tons of rice and beans to redistribute to each of them. Without assistance all poor people will go back to a dramatic situation where violence and theft could significantly increase.
Akamasoa has a lot to do to reach the goal of total self-financing in order also to well pay each employee. Here, family life still precarious this is why our association need external funding and donation in kind: food, medicine, work tools, clothes…that are given to us so generously by benefactors, anonymous persons, NGO, associations and some national funders.