Father Pedro's whishes for Christmas 2015 and new year 2016
Dear Friends,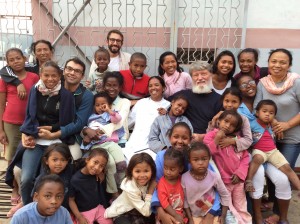 With the Christmas and New Year celebrations coming up, we are sending you, as we usually do, a few words of kindness and are thanking you for all your help throughout this year coming to an end.
Today, I am writing with a heart still muddled by the murderous acts of November 13 during which 130 innocent brothers and sisters lost their lives and some 300 others have been hurt and disabled for life. In front of this evil we remain speechless. Firstly silence must be make as a token of respect for the innocent victims who lost their lives while they were on their way to meet a friend, grab a drink on a terrace, go to a concert or to a soccer game. But these barbarous acts from another time also cause our astonishment: we are struck, us who thought that we had acquired wisdom and built a civilization of respect for each other's life, that such events could still be happening today.
The crimes of November 13, which cannot be named, bring us back to the reality of our world where still exists persons, brothers and sisters, who are manipulated and made fanatical by sects or religions of others. Because we cannot talk about religion when people are acting this way. In all great religions, God has always been designed as love, mercy and forgiveness, as the God creator of the universe and of all the human beings. How can we usurp God's name of love while committing such crimes?
In this period of Christmas festivities that us christians are celebrating, God is incarnated in a young child born in Bethleem in the greatest deprivation, humility and simplicity. Which message of God-love can be stronger than this one, to tell all humans that we are all loved by this Creator, that we all have within ourselves this divine spark that unites us together to create and build a more fraternal, fair and united world?
Brothers and sisters, even if it's hard to forgive, in the name of God who we believe in, we must forgive our persecutors for the wrong they did to us. But it doesn't mean that we mustn't defend ourselves and do everything we can so that such criminal acts won't exist anymore anywhere in the world.
Dear brothers and sisters, there are other attacks on human dignity happening everyday in Africa and in Madagascar, in which innocent children die of hunger, miss drinkable water and are in lack of everything. Facing these attacks to the dignity of man, the United Nations are -as they say- fighting with gradual programs, for example to reduce hunger by 2030. We are putting together reports when we should on the contrary flood the medias and use all means to tell each man that we are all responsible for each child dying of hunger, for each mother dying when giving birth of diseases that we cure in the rich countries, of elders who, when they turn 60, die of exhaustion in complete indifference. We should, we the tools we have, be more striking and more relentless. 
We hope that the great international meeting happening in Paris at the beginning of December 2015 -the COP 21- will move the hearts and minds of all men on earth, for us to feel responsible for each other, all responsible in the fight against extreme poverty, especially in Africa and in Madagascar, and we are all invited to participate according to our means, even if modest, to share with those who, as the missionaries of Christian churches and as the NGOs, are on the front line to fight extreme poverty.
Dear friends, we can give up for no reason, because none of these are valid reasons to shy away from the child dying of hunger. May Child Jesus who is born in this Christmas day bring us this border-less love, justice for all and a border-less brotherhood too.
Happy Christmas with all your family and friends! Happy new year 2016!
And, if we are wishing you the best for the end of year celebrations, it is because, in spite of all the barbarous acts of 2015, hope, truth and love will always win over fanatics and evil.
Strength and bravery!
Father Pedro